The Admirals' Skull Pirate Ring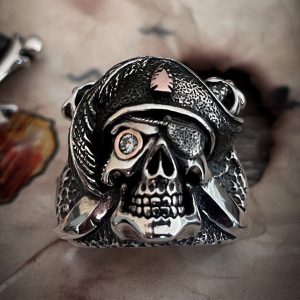 This is our crew ring with add on's. This version is called the Admiral's ring. It has a quality diamond set in an 18kt gold bezel. This is our hand carved , hand crafted Crew mate's ring with upgrades! You will get a choice of 18kt gold parts for hats. more to come.
Custom made Pirate ring of Solid .925 Sterling Silver
hand carved and handcrafted, antique finish
all sizes available.
Rings are hand carved and produced by Chris Black of Chris Black Designs. Rings come with certificate of authenticity and singed stamped by maker .